Data Solutions Corp
Menu of Services
Printable Brochure
Download our Printable Brochure
To print the PDF brochure, follow these instructions. If you already know how to download and print a pdf file, then feel free to skip these instructions and go straight to printing.
---
This pdf is best printed as a double-sided print so both pages are on one sheet of paper.
If you don't have the ability to print double sided, then 2 pages will work fine.
Once the brochure is printed it is then folded into C shaped trifold.
---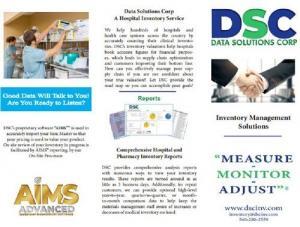 Printing Instructions
When the download button is clicked some computers will open it right away into the browser. If this happens you can select the print button and start the print job.
Some computers are designed to download first, if so, click the pdf or right click the pdf and select "save target as" or other wording depending on your computer and browser version.
When saving the pdf be sure to choose the location you save it to. However, most browsers will download straight into the download folder on your c drive.
Then once downloaded on your computer, browse to the download location and open the file in your pdf viewing software.
Once it's opened in your pdf viewing software choose file and print double sided if your printer can do it, otherwise two pages will be needed.
Good data will talk to you!
Are you ready to listen?
We take care of our customers, and that includes you!
Do you have questions or unique requirements that you would like to discuss?
Give us a call or send a message.